A wrinkle relaxers treatment is also commonly referred to as anti-wrinkle injections or a chemical brow lift. At the Rodin Clinic in Perth, our highly experienced team can administer anti-wrinkle injections to restore a more youthful and plumper look to the face.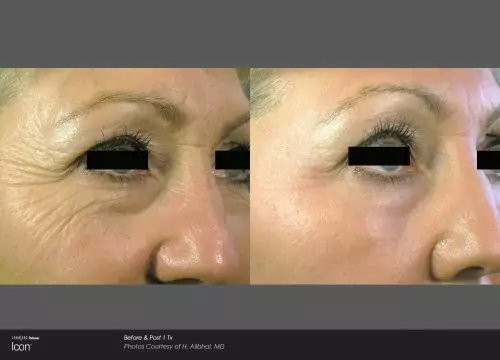 What is a wrinkle relaxer treatment?
Many facial wrinkles occur when we use our muscles to make repeated facial expressions. Anti-wrinkle injections are a quick and simple, minimally invasive non-surgical treatment that can reduce the appearance of wrinkles delivering great natural looking results. The drug used for a wrinkle relaxer treatment is extracted from bacteria and refined into a medication that is a natural purified protein.
How does the wrinkle relaxer treatment work?
Administration of a wrinkle relaxer will block messages from the nerves to the treated muscle. This lack of communication will cause the treated muscle to no longer contract or slow down its movement. Lack of muscle movement under the skin will make the wrinkles relax and soften, creating a smoother, rejuvenated and more youthful appearance.
What can a wrinkle relaxer treat?
An anti-wrinkle treatment has both cosmetic and non-cosmetic indications. The treatment has been used for many years and has an excellent safety profile.
Cosmetic
Vertical frown lines between the eyebrows

Horizontal lines on the forehead

Lines around the eyes, commonly referred to as crow's feet

Eyebrow shaping and elevation

Gummy smile

Lines around the mouth, commonly referred to as smoker's lines

Lower face reshaping (square jaws)

Downward turn of mouth

Chin dimples

Neck bands
Non-Cosmetic
Migraines

Excessive sweating

Teeth grinding and jaw clenching

Cerebral palsy (we do not treat this at the clinic)
What does the wrinkle relaxer treatment involve?
1. Pre treatment consultation
A complimentary, non-obligatory consultation is provided by our Practitioner. This consultation enables you to express your concerns freely and confidentially. Following an assessment and examination, a tailored treatment plan will be provided and the most appropriate treatment for you will be discussed. Your intended budget is also discussed.
The wrinkle relaxer treatment involves a small injection into selected facial muscles using a very fine needle. Discomfort is generally minimal and brief, and no anaesthetic is usually required. Should you be particularly worried about discomfort, ice or an anaesthetic cream can be applied prior to the injection. Wrinkle relaxer treatments generally takes around 10 minutes, and you can return to work if need be.
Avoid strenuous exercise for 24 hours.

The most important thing is to not massage the area for the next 24 hours. Not massaging the area will keep the wrinkle relaxer in the area is was intended for. Gentle face washing it fine after the injection.

Avoid saunas, spas & hot showers for 24 hours.

To assist with bruising, you may wish to apply a topical treatment such as arnica or hirudoid cream.

Avoid the use of skin care containing active ingredients such as retinol, vitamin c, glycolic acid, lactic acid, perfumes and colours during the first 24 hours.

Avoid applying oil based make up during the first 24 hours, mineral make up is fine.

Avoid facials, waxing, chemical peels, IPL or energy-based treatments and microdermabrasion for two weeks after treatment.
You will be requested to return to the clinic approximately 2 weeks following your treatment. This is an important part of the treatment process as your practitioner will ensure that your treatment is complication free and that you are satisfied with the treatment outcome.
Book a Wrinkle Relaxer Consultation Today
Contact our team on 08 9389 9522 today to schedule an initial consultation for our anti-wrinkle injections at Rodin Clinic in Perth. Our team is here to answer your questions and provide further details.
Get In Touch with our Surgeons
If you would like to book a consultation with Dr Timothy Cooper or Dr Robert Choa, get in touch with us or fill out the form below and one of our helpful staff will be in touch shortly