Abdominoplasty is also commonly referred to as a tummy tuck..
If you've thought strongly about undergoing tummy tuck surgery, our Perth surgeon can answer any concerns or queries that you may have prior to your tailored surgery with Rodin Clinic. If you would like to book a consultation with a highly experienced surgeon to discuss your options further, contact Rodin Clinic today!
Suitability for a Tummy Tuck
Abdominoplasty is best suited to women and men who are in relatively good shape, but who have lax abdominal skin and/or abdominal fat that won't respond to dieting or exercise. Undergoing a tummy tuck is not recommended if you are significantly overweight.
When you first present your BMI (basal metabolic index) will be assessed by measuring your height and weight. If your BMI is greater than 30 you may be directed to a weight loss clinic or bariatric surgeon before consideration of an abdominoplasty.
If you plan to become pregnant or to lose a significant amount of weight, you should discuss these plans with your surgeon. Scars from previous abdominal surgeries may limit the results of an abdominoplasty. However, in some cases, an existing scar can be used for the new incision, as is often the case for women with caesarean section scars.
For more information regarding abdominoplasty in Perth, free to contact us at any time.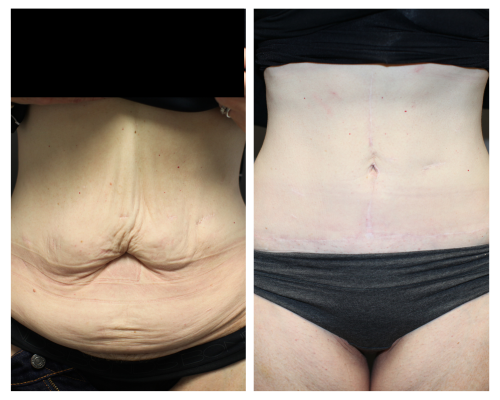 What should I expect from the consultation?
When examining your abdomen, Dr Cooper will evaluate the quality of your abdominal skin, the location of any existing scars, the amount and location of any excess fat and the status of the underlying muscles. He may suggest other treatments to better meet your goals. For example, some patients may benefit from liposuction alone or a more limited type of abdominoplasty, if there is not excessive skin laxity.
How is an abdominoplasty performed?
The tummy tuck operation is performed under general anaesthetic. Various measures such as stockings and foot pumps are utilised, to lessen the risk of a DVT (thrombosis) forming postoperatively.
An incision is placed just above the pubic area and extended laterally on either side. The length of the incision depends largely on the amount of skin to be removed. Your surgeon may tighten the underlying muscles by pulling them together. Any excess or stretched skin from the lower abdomen is trimmed away. A second incision will be made around the navel. Although the navel's position remains unchanged, it's appearance may be altered. Liposuction may be used to help contour the upper abdomen, flanks and posterior hips. Drains are often left in place to drain off any fluid accumulation. At the end of the procedure a compressive garment is fitted.
Are there alternative options to a tummy tuck?
Traditional abdominoplasty isn't always the best choice for everyone. Your surgeon will advise you of other options that may help you achieve your goals. A procedure for liposuction may be recommended as an alternative solution to abdominoplasty. If you are considering liposculpture, book a consult with Rodin Clinic to obtain the best advice for you.
The "mini" abdominoplasty: This procedure may benefit you if you are primarily dissatisfied with the appearance of the abdominal area below the navel. A mini abdominoplasty requires only a short horizontal incision and no navel incision. It's important to realize, however, that the mini abdominoplasty will not correct loose skin above the navel.
Undergoing liposuction: If you have good skin elasticity and muscle tone, liposuction alone may be used to remove abdominal fat. This alternative may appeal to patients who are planning to become pregnant in the future. Liposculpture in Perth is commonly used to contour the abdominal area, in addition to removing excess fat. If you have a lot of excess skin you may not be suitable for a liposuction only procedure.
Your surgeon may suggest a body lift, particularly in the context of extreme weight loss. This involves a circumferential scar extending around the hips and curving into the upper buttocks. It has a secondary effect of providing lift to the buttocks and posterior thighs. It is more prolonged surgery, but the results can be very impressive.
Book a Tummy Tuck Consultation Today
Contact our clinic on 08 9389 9522 today to schedule an initial consultation for tummy tuck surgery in Perth. Our team is here to answer your questions and provide further details.
Ready to discuss your surgery?
BOOK A CONSULTATION AT RODIN CLINIC​
Ask Dr. Cooper a question