Abdominoplasty is also known as a tummy tuck. Abdominoplasty is a cosmetic procedure that aims to improve the shape and tone of a patient's stomach by removing excess fat and skin. Abdominoplasty can restore weakened or separated stomach muscles and strengthen the abdominal wall. 
Ageing, pregnancy, previous surgery and weight changes can cause a protruding stomach. Patients seeking an abdominoplasty should be content with their weight and not be planning major weight loss or pregnancy in the future. This treatment does not treat stretch marks first hand. Our team may remove stretch marks in the process of an Abdominoplasty  when removing excess skin. After an Abdominoplasty, patients will have a more defined, flatter stomach without excessive skin and fat pads.
If you've thought strongly about undergoing an Abdominoplasty surgery, our Perth surgeon can answer any concerns or queries that you may have prior to your tailored surgery with Rodin Clinic. If you would like to book a consultation with a highly experienced surgeon to discuss your options further, contact Rodin Clinic today!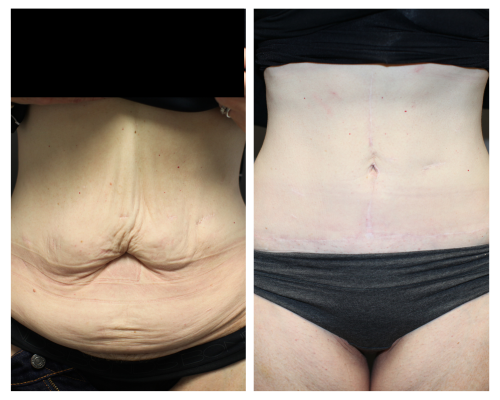 Suitability for an Abdominoplasty
Abdominoplasty is suitable for women and men who are in good shape, but who have loose stomach skin and stomach fat that won't respond to dieting or exercise. We do not recommend undergoing an Abdominoplasty if you are overweight. In your consultation, your surgeon will assess your BMI by measuring your height and weight. They may direct you to a weight loss clinic rather than abdominoplasty, if your BMI is greater than 32. This is because this procedure may not provide the results you are looking for.
If you plan to become pregnant or lose a large amount of weight, you should discuss these plans with your surgeon. Scars from previous stomach surgeries may limit the results of an abdominoplasty. However, in some cases, an existing scar can be used for the new cut, as is often the case for women with caesarean section scars.
What should I expect from the consultation
Your surgeon will evaluate the quality of your skin, the location of any existing scars, the amount and location of any excess fat and the status of the underlying muscles. They may suggest other treatments to better meet your goals such as liposuction.
You will be under general anaesthetic for the procedure. Our team aims to reduce the risk of blood clots forming after the procedure and will therefore use measures such as stockings and foot pumps.
Firstly, your surgeon will make a cut just above the pubic area and will extend it on either side. They will determine the length of the cut by the amount of skin they have to remove. They may tighten the underlying muscles by pulling them together. Your surgeon will trim away any excess or stretched skin from the lower abdomen. They will then make a second cut around the navel. The navel will not move position however it may look different at the end of the surgery. Our team may suggest liposuction which contour the upper abdomen, flanks and hips. After the procedure, we often leave drains in place to drain off any excess fluid. At the end of an Abdominoplasty our team will fit you with a compression garment.
How much does abdominoplasty cost in Perth
Our team at Rodin Clinic Perth will give you a quote for your Abdominoplasty procedure in your consultation. Your surgeon will explain the process of an abdominoplasty so that you understand the procedure and what it entails. They will ask you what your ideal results are from your Abdominoplasty to determine the cost of your procedure. We customise this treatment to suit each patient and therefore the cost is unique.
A Medicare rebate is available for certain cases of abdominoplasty. Excess tissue must be accompanied by significant weight loss and it must impact your daily life. This excess skin must have caused inflammation or infection that, after three months of treatment, has seen no signs of improving. You should contact your provider to see if your procedure qualifies for a health insurance rebate. Contact our clinic for advice on acquiring a rebate for your Abdominoplasty.
Are there alternative options to an Abdominoplasty?
An abdominoplasty isn't always the best choice for everyone. Your surgeon will advise you of other options that may help you achieve your goals. Liposuction is an alternative solution to body contouring surgery. If you are considering liposuction, book a consultation with Rodin Clinic to obtain the best advice for you.
The "mini" abdominoplasty: This procedure may benefit you if you are unhappy with the appearance of the lower stomach area. A mini abdominoplasty requires only a short horizontal cut and no navel cut. It's important to realise, however, that the mini abdominoplasty will not correct loose skin above the navel.
Liposuction: If you have good skin elasticity and muscle tone, liposuction alone may be used to remove abdominal fat. This alternative may appeal to patients who are planning to become pregnant in the future. We use liposuction to contour the abdominal area, and remove excess fat. If you have a lot of excess skin you may not be suitable for a liposuction only procedure.
Body lift - Circumferential lipectomy
Your surgeon may suggest a body lift, especially in the context of extreme weight loss. This involves a scar extending around the hips and curving into the upper buttocks. It has a secondary effect of providing lift to the buttocks and posterior thighs. It is a more prolonged surgery, but the results can be very impressive.
Abdominoplasty Before and After
How to choose and Abdominoplasty clinic in Perth
To determine an abdominoplasty clinic for you in Perth, patients must weigh up several factors. Firstly, patients should ask their surgeon about their experience and training. It is important for your surgeon to have previous experience and knowledge of an Abdominoplasty. Each clinic will provide you with a treatment plan so patients should compare these to match to your ideal outcome for the procedure. View the before and after pictures of each clinic to see the type of results you may receive from an Abdominoplasty.
Patients should book multiple appointments so they can compare each clinic and surgeon to find the right one for them. To book a consultation with our clinic, reach out to Rodin Clinic today.
After their Abdominoplasty, patients must prepare for their recovery. An abdominoplasty is invasive and can take up to six weeks to recover from. Your surgeon will discharge you after one to two days in hospital. Upon your discharge you will be provided with abdominoplasty aftercare instructions by your surgeon. Patients should rest for two to three weeks at home. Rodin Clinic will organise a follow-up appointment a week after your surgery. If your surgeon inserted drains into your surgery site, he will remove these in an earlier appointment. Patients should wear an elastic garment for at least four weeks. We encourage patients to walk around the hospital in the first week to prevent blood clots.
You will be in pain for two to three days after the tummy tuck. We recommend resting until the pain subsides to allow your body to recover. Your surgeon will prescribe you with pain medication after the procedure. After the Abdominoplasty your stomach, hips, thighs and groin will swell. You should sleep on your back for four weeks after the tummy tuck. Patients should avoid physical activity for six to eight weeks after the treatment. For two weeks patients should avoid driving.
A surgery such as an abdominoplasty has several risks. Bleeding can commonly occur after a tummy tuck. Whilst drains are used fluid build up can occur in the abdomen.
Every surgical procedure involves a certain amount of risk, and it is important that you understand these risks and the possible complications associated with them. In addition, every procedure has limitations. An individual's choice to undergo a surgical procedure is based on the comparison of the risk to potential benefit. Although the majority of patients do not experience these complications, you should discuss each of them with your plastic surgeon to make sure you understand all possible consequences of abdominoplasty surgery.
Book an Abdominoplasty Consultation Today
Get In Touch with our Surgeons
If you would like to book a consultation with Dr Timothy Cooper or Dr Robert Choa, get in touch with us or fill out the form below and one of our helpful staff will be in touch shortly