Intense Pulse Light (IPL) Permanent Hair Reduction overview
Intense Pulse Light, or IPL, permanent hair reduction is a fast, comfortable and semi-permanent alternative to treat unwanted hair. Common areas of unwanted hair include the upper lip, face, neck, underarms, bikini area, legs, arms, chest and back.
How do IPL treatment work?
IPL permanent hair reduction treatments work by delivering pulses of filtered light are directed onto the skin and absorbed by the hair follicles. Specific wavelengths of light are absorbed by the pigment in the follicles and converted to heat. The heat then disables the cells responsible for growing new hair.
Are there different types of IPL machines?
The Rodin Clinic uses the state-of-the-art ICON IPL system. The ICON is a medical grade pulsed light system which is able to deliver a maximum amount of energy safely to the skin.
This IPL system has a superior cooling system built into the handpiece to allow safer, more comfortable treatments.
Pulsed light systems are similar to lasers, but with a larger, smooth beam, and a long pulse for safe, fast, and comfortable treatments.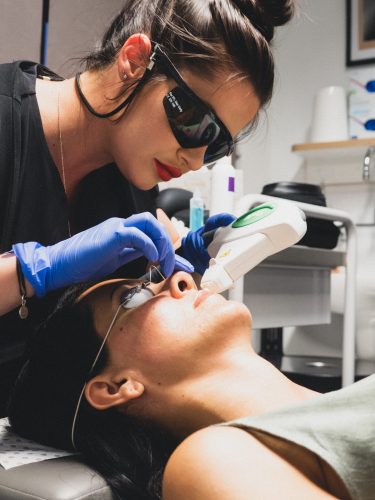 What does IPL Permanent Hair Reduction involve?
1. Pre treatment consultation
A consultation for an IPL treatment is provided by our nurse. The consultation is free and includes your IPL test patch. This consultation enables you to express your concerns freely and confidentially. Following an assessment and examination a tailored treatment plan will be provided and the most appropriate treatment for you will be discussed.
2. Pre IPL skin preparation
In order to prepare for your IPL treatment, you must:
Avoid sun exposure for 1 month prior to treatment with IPL.
Avoid the use of topical tretinoin 1 week prior to IPL if using in the treatment area.
Wear wide brimmed hat, sunscreen and or protective clothing depending on treatment area.
Do not use fake tan 2 weeks prior to IPL.
IPL test patches are always performed prior to any treatment with IPL.
After the consultation, and if you are happy to proceed, you will need to sign a consent form before treatment can progress.
The skin is cleansed to remove sunscreen or make up.
A grid pattern is drawn onto the skin with a yellow highlighter.
The IPL handpiece then moves over the skin, pulsing as it goes, and a flashing light with a mild flicking sensation is felt on the skin.
The grid is removed with a cool damp cloth.
Ice or a cooling gel is applied to the skin.
Sunscreen is applied prior to leaving the clinic.
The treatment may take anywhere from 30 minutes to 2 hours depending on the area being treated.
Book an IPL Consultation Today
Contact our team on 08 9389 9522 today to schedule an initial consultation for our IPL treatments at Rodin Clinic in Perth. Our team is here to answer your questions and provide further details.
Ready to discuss your surgery?
BOOK A CONSULTATION AT RODIN CLINIC​
Ask Dr. Cooper a question